Vaishali Shah, Creative Director of Ananya has looked at the catwalk, interiors, pattern libraries and more, for inspiration to identify their 6 key trends for 2016 – and has then interpreted them in their own Ananya style.
TREND 1 – MEADOW / BOTANICALS – this will be a big trend for 2016.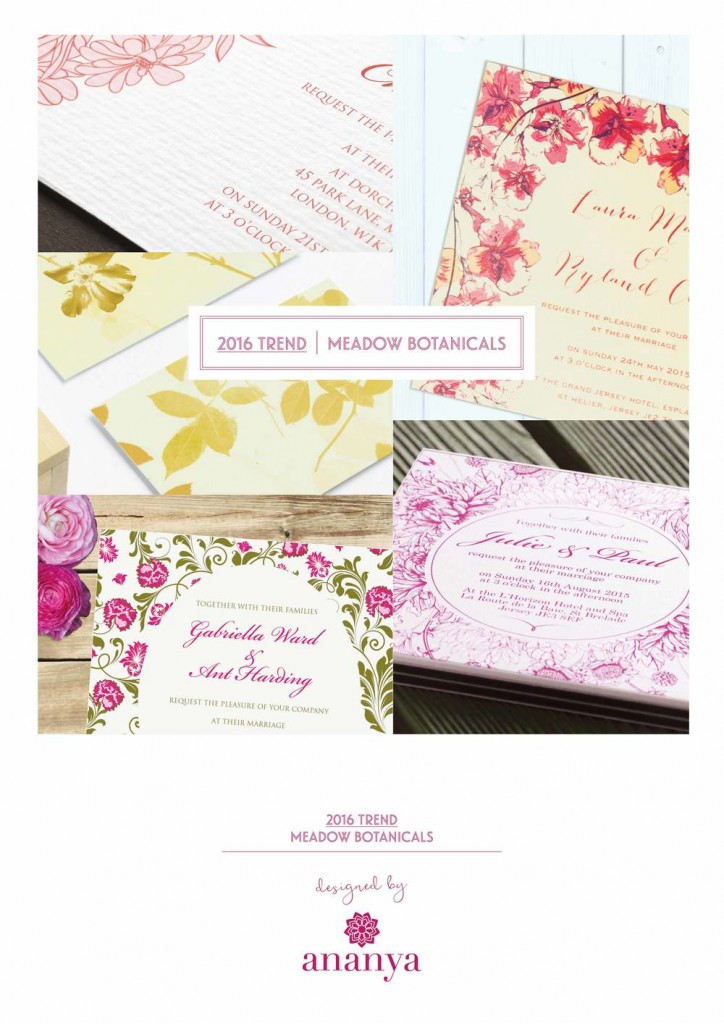 The nature trend continues to be popular but in 2016, it is all about the wild flowers, the meadows, and the countryside. It is less structured and more wild and organic, not so refined anAdd Newd put together. Think romantic meadow prints, carefree summer days. We will also see botanical illustrations – sketched imagery, hand drawings, which can be intricate and delicate.
As you would expect, shades of green will be popular. Green is a colour of nature, ecology, harmony, peace, growth, new life and positive energy. In most western cultures green denotes luck. Green in your wedding colours will create a calming and restful mood with enough warmth to encourage a feeling of unity and togetherness among the guests.
Green and pink work well together. Pink represents universal love, romance, friendship, harmony, and compassion. It's a more gentle and loving energy than red. Hot Pink is bursting with energy. It radiates more passion than pale pink. It's contemporary and fun. Pink as one of your wedding colours will create a mood of gentle warmth, love and thoughtfulness.
TREND 2 – FOLIAGE
Here, the leaf/foliage takes centre stage.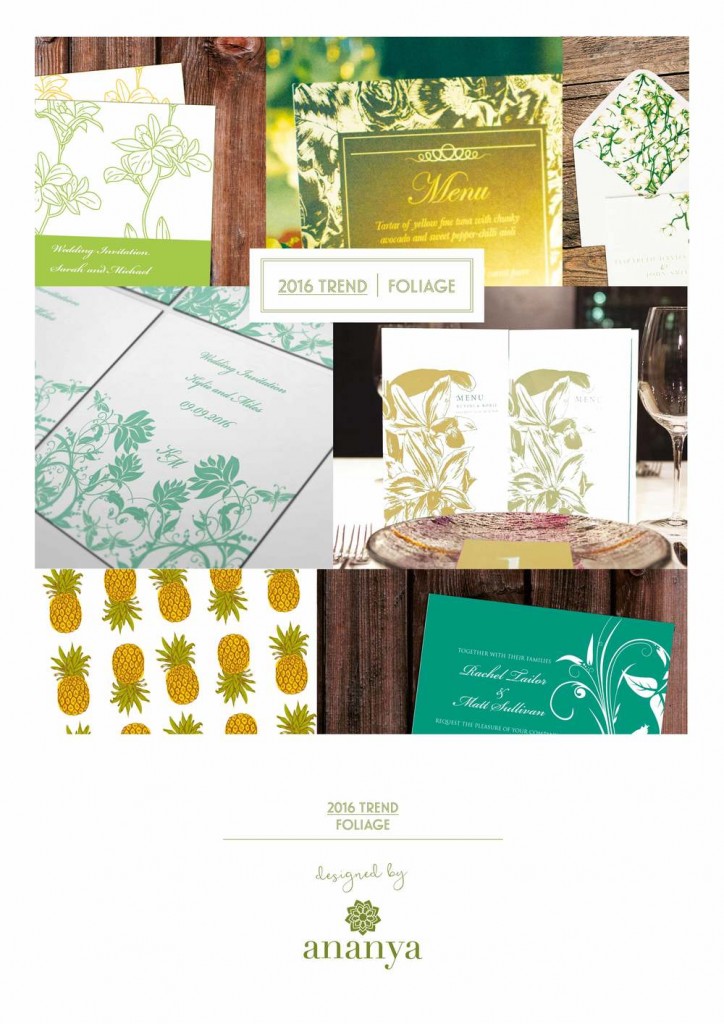 Foliage can delicately grace wedding invitations. Autumnal coloured leaves can set the perfect tone for your autumn wedding and tones of green bring a sense of freshness and are perfect for spring and summer weddings. Foliage will also be tropical – tropical florals and lush foliage will be big in 2016. With the tropics theme, expect to see birds of paradise, tropical birds, bright colours.
We expect to be designing quite a few orchid themed invitations next year – and also perhaps some with tropical pineapple prints – which we saw a lot of on the catwalk!
This foliage trend would lend itself well to outdoor, rustic types of weddings. Imagine barns, garden weddings and venues heavily inspired by nature. We believe that envelope liners will increase in popularity in 2016. We have certainly noticed an increase in brides asking for fancy patterned lined envelopes this year, compared to previous years.
Using patterns from the design, to co-ordinate them with the stationery, they add an extra dimension and accent – and add harmony to the entire stationery suite. This foliage trend works really well for couples that are eco-conscious. All Ananya stationery is printed on card from sustainably managed forests.
TREND 3 – INDIGO
Indigo is a combination of deep blue and violet.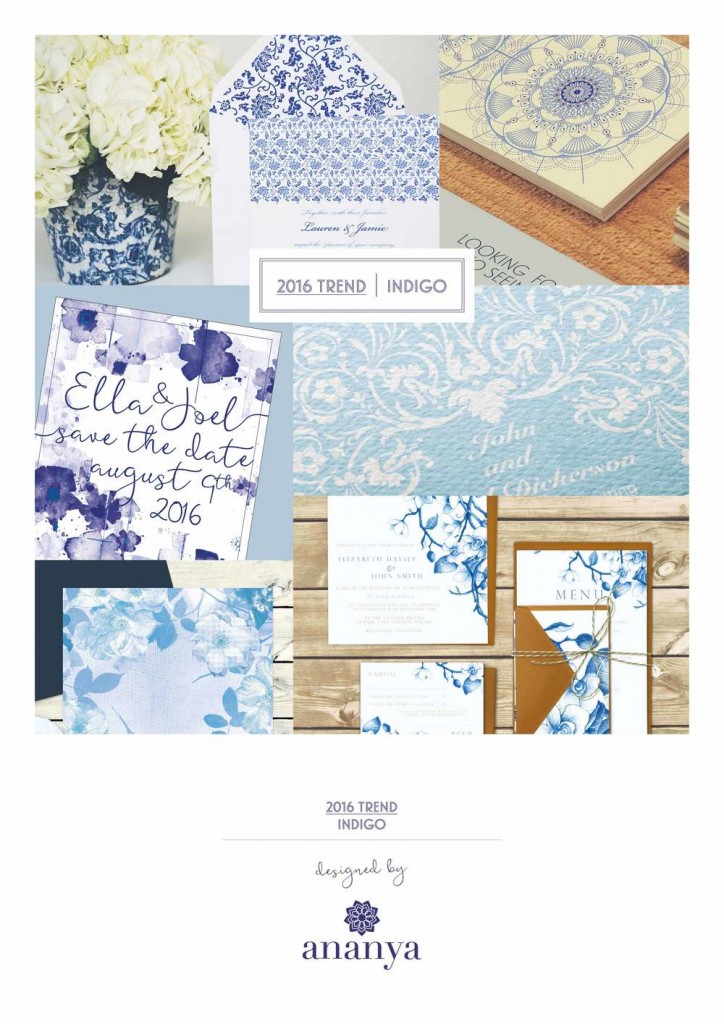 Indigo is said to represent dependability, trustworthiness and sincerity – and therefore makes an ideal colour for weddings and wedding stationery. It is a spiritual colour and derives its name from the Indigo dye from the Indigo plant, found in India. It represents the 3rd eye (for intuition and creativity) in the Indian Chakra system that represents energy centres in the body. Blue, generally speaking, is a calming, relaxing, cooling colour.
In 2016, there will be a sea of blue and in particular indigo. Shades of blue are highly adaptable to one's style preference; deeper shades like indigo, royal and navy blue can give a regal, sophisticated look. Lighter shades like teal and sky blue can give a summery look for nature lovers. Combine with white, yellow or green for a fresh, crisp look, or metallic for sophistication and glamour. Indigo works very well with other colours to give interesting colour combinations and palettes.
Blue stationery can also be your 'something blue' for a wedding.
TREND 4 – PAISLEY
Paisley – originates from ancient times, but its appeal is eternal.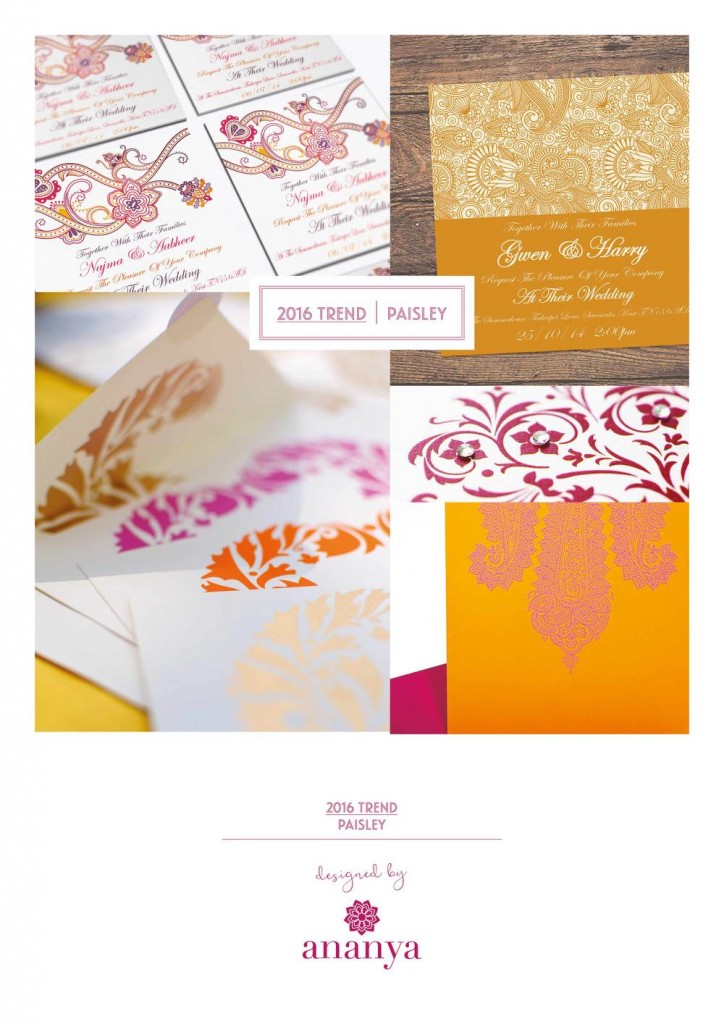 Exotic and always in vogue, the paisley motif will be particularly on trend in 2016. Suitable for both Western and Eastern weddings – for western weddings, the paisley pattern can be used in a more stylised, contemporary way. For Eastern weddings, it can be used in a more traditional, recognisable form.
This is part of the trend for 'ancient modern' – where historical references take on a twist. Tradition redefined. Tradition reinvented. You have licence to be creative in your interpretation of the paisley symbol.
Ananya loves taking traditional patterns and motifs and giving them a contemporary interpretation. Ananya particularly does this for multicultural weddings, which are certainly on the rise, where Ananya takes elements from both cultures and seamlessly weaves them into the stationery.
Paisley can be expressed in bright, vibrant colours – makes a dramatic statement at a wedding. Expressed in soft and serene colours – can convey both the joy and sanctity of the occasion. It can be delicate, finely detailed or ornately swirly against a bold backdrop.
We will see paisleys in 2016 in vibrant colours like saffron (an auspicious colour in Hinduism and therefore often used in Asian weddings) as well as more toned down in earthier, mustard colours.
TREND 5 GLOBAL TRAVELLER
The promise of far away lands. Exotic. Mosaics. Heritage prints and ethnic patterns. Tile patterns – taking inspiration from tiles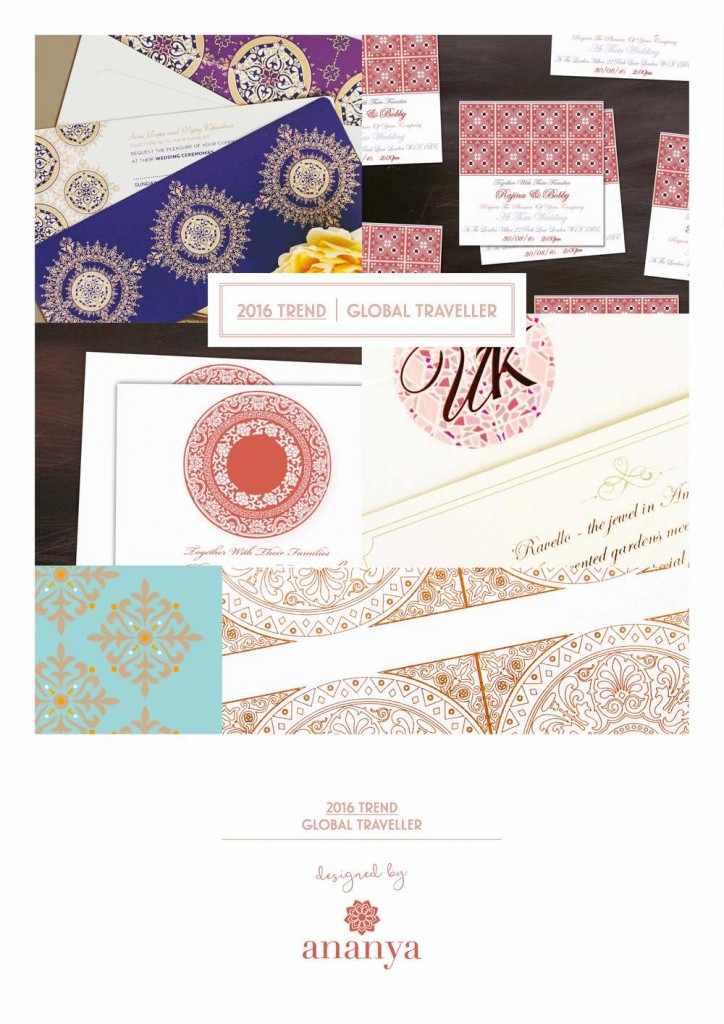 Traditional handcrafted motifs. Metallic. Moroccan/souk feeling. Intricate. Colourful. Vibrant, bold, jewel tones
A time to mix contrasting colours – colour clash, a riot of colours. Heavy use of the colour purple being used in this trend.
Purple has strong, historical associations with royalty, especially in sacred contexts. Colour of magic, mystery, spirituality, royalty
TREND 6 – GEOMETRICS
For those who like to make a bold statement, the trend for geometric designs is a perfect fit. There are no rules when it comes to the design and colour combinations.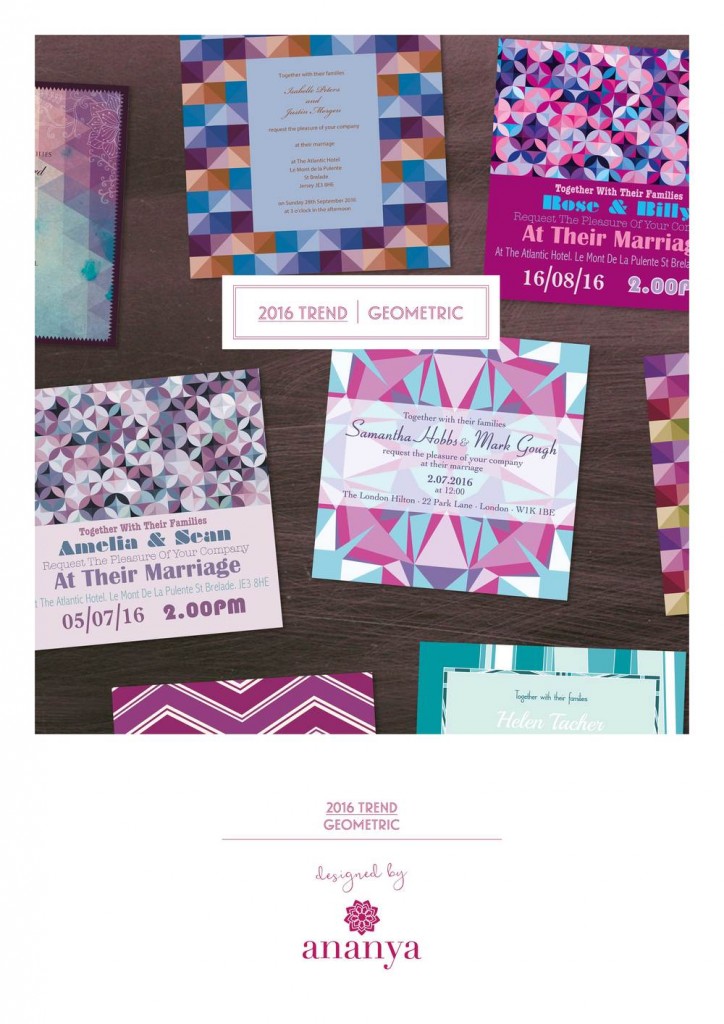 Be as bold as your personality. Patterns can be as complicated OR simple or ornate as you like.
Structured geometrics. Mosaic patterns. Graphic interlocking. Islamic geometry, patterns and architecture. Bold diagonals
Contemporary stripes and checks. Structured colour blocking. Abstract. Maze like. Ethnic geometric patterns can look tribal. As seen on the Prada catwalk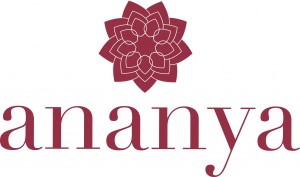 Although these are key trends, which Ananya has identified, Ananya feels that there are certain designs and styles, which will always be popular with bridal couples.
elegant, classic, stationery – engraved and embossed onto thick card
monochrome black and white or black and champagne. Champagne is a lovely colour – elegant and sophisticated colour that has a slightly vintage feel and works well with black, and warmer than black and white.
monograms – the ultimate in personalisation. When incorporating elements meaningful to a couple, their monogram becomes part of their identity and has many uses beyond the wedding, including personal stationery.
Metallic colours and in particular rose gold. The ascent of rose gold with its soft glow has definitely caught the imagination of the fashion world, and this is being adapted into the world of wedding stationery. With its versatility, equally stunning when combined with deep, rich colours such as claret, burgundy or even purple, as well as soft pastels such as peach, blush pink and grey, rose gold is sure to cast its spell in 2016.